Zubler S400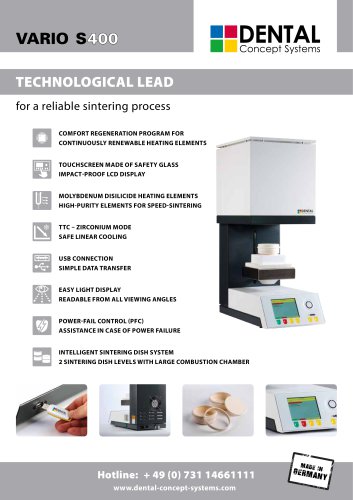 The importance of the sintering process in the manufacture of restorations from zirconium oxide in everyday laboratory practice has long been underestimated. Dental Concept Systems sets new standards with the new VARIO S400 sintering system and benefits from the many years of experience of Zubler Gerätebau. New dyeing options before the sintering process and a wide variety of materials require further processing options that hardly any sintering furnace on the market can offer.

Advantages of the VARIO S400
◦ Effective sintering times through fast heating and cooling phases
◦ Automated cleaning program for the complete sintering chamber
◦ Preset and safe sintering programs with free programmability for speed and long-term programs
◦ Process reliability through furnace control program with automatic re-sintering in case of energy loss
◦ Limitless programming variety for future materials
◦ High-purity elements from semiconductor manufacturing


The innovative and modern Touch Glass interface consists of impact-resistant and heat-resistant safety glass with our new LED back light display. Furthermore, the intelligent and easy to use menus provide simple navigation through menus and programs. For many years these panels have proven to be pleasant, comfortable and much more durable than traditional membrane touch pads. The touch glass is covered by a lifetime warranty!